Tempest's Course, Quilts of Love Series #13
ABINGDON PRESS / 2013 / PAPERBACK
Kelly Frost, a textiles conservator, is invited to the Massachusetts coastal city of New Bedford to restore a 150-year-old Mariner's Compass quilt. But there is one stipulation: she must live and work in Gray House, a former whaling captain's home, where the quilt is stored. There she meets Army veteran Tom Pereira, the caretaker of Gray House, whose heart seems as hard as the rocky Massachusetts coastline. Over the long-lit months as Kelly works to restore the quilt, she and Tom grow closer. And as she reads stories in a daily journal penned by Mary Gray, she learns the secrets of the quilt and Mary's own sad tale of regret. Then Tom learns secrets of his own family's past, and both Tom and Kelly learn they are tied to Gray House in ways they never imagined.
The Ultimate Life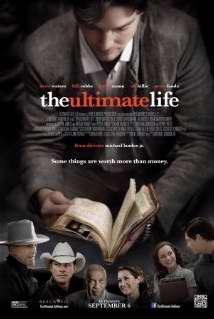 PROVIDENT MUSIC DISTRIBUTION / DVD
This touching story of faith and family values is the follow-up to the heartwarming film and best-seller
The Ultimate Gift
. After receiving life-changing gifts from his grandfather, Jason Stevens finds himself in need of guidance once again. Jason's billion dollar foundation is being challenged in a courtroom battle which complicates his relationship with his soul mate. When it looks like he may lose it all, he finds his grandfather's journal. With everything he loves hanging in the balance he embarks on a journey into the past through the journal to learn what it means to live...
The Ultimate Life
.